When you apply FullContact and Gmail in Dativery, a new panel appears in Gmail with FullContact details about each sender.
In the Dativery panel, you can see:
Company list where the sender works or worked

Links to social networks

Job position

Photo

Full name
So, you can add the sender immediately to your social networks or check their activities in their profiles (potential candidates).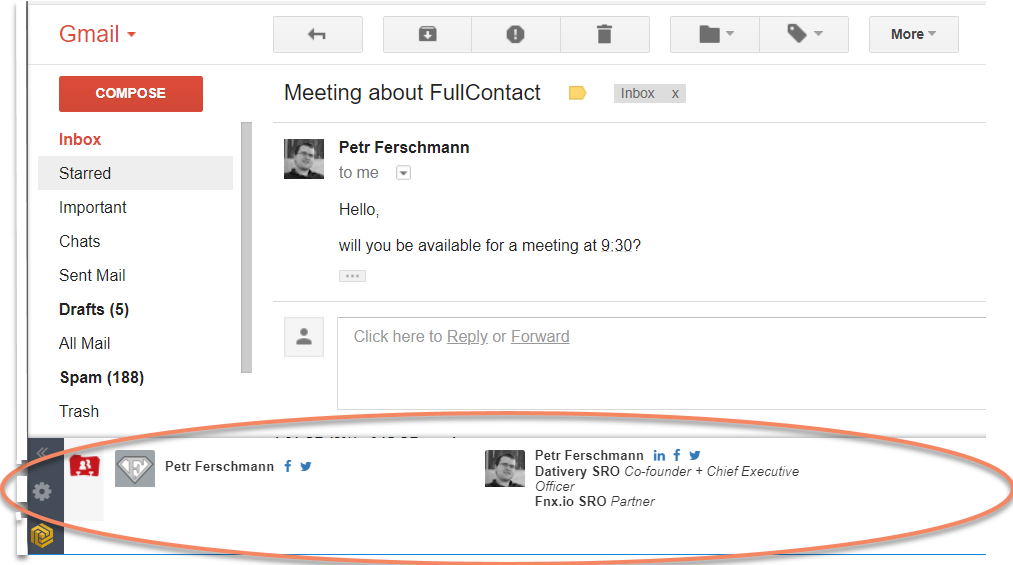 To display FullContact in Gmail:
Log in to Dativery.

In Dativery, click

Integration Scenarios

.

In the

Integration Scenarios

, enter 

FullContact

in the

Search for application field.
Dativery offers you plenty of scenarios with FullContact.
Select the scenario with Gmail.

Click the scenario.

Apply the scenario and because Dativery wants to read Gmail's data, grant access to Gmail's data.

The last step you need to go through is a scenario activation.
Dativery wants to set up a company search model which helps you to improve search results. The company search pair and combine search results if you use more applications together. For example, you can apply FullContact and your national company database. The company search can mix results from both applications. The company search can be configured later, therefore we can skip these settings for now and click Save

.
At this point, you can go to your Gmail account, open one particular email and check the Dativery panel.